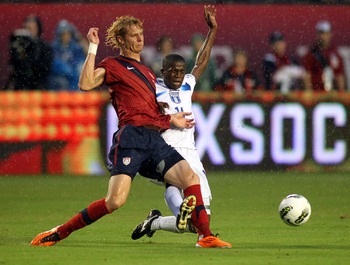 1. I find it a little bit funny that, apart from the Mexico match, the
USA
has been doing the antithesis of the
Bob Bradley
era – starting very promisingly, even dominating, before giving up a goal. Three of the four goals the USA has conceded in the Klinsmann era have been in the second half, and two of those three in the last 22.5 minutes ( the "second half of the second half"). Now, to be fair to Klinsmann, I doubt that
Carlos Bocanegra
would have had as big a mental lapse as Tim Ream did last night. Substitutions inevitably just about always ruin international friendlies, which is partly why Bob Bradley would frequently make half, or even less than half of his substitutions during certain friendlies, using certain friendlies to test his actual tactics, and then using others to test the mettle and merit of players( January friendlies).
2.
Oguchi Onyewu
had a great game. There isn't much other way of putting that. However, my (biggest) surprise comes from the fact that he had such a great game against the type of attack he is rumoured to struggle against – pacy strikers, tricky wingers, and a counter attacking side that's good in transitions. His positional sense was great, his aerial dominance was evident, and he's playing with a confidence and belief in himself that we haven't seen in a while. The center back spot seems his to lose
3. There is a serious lack of creativity in the central midfield right now. And I'll tell you something else – the solution is not Jose Torres ( or whining about what Stuey Holden would do). Torres may spray the ball around smartly to keep possession, but he lacks the attacking drive. By that, I mean that he's not really trying to make a direct impact on the attack. What the USA could really use is a defensive midfielder who can get in tackles AND spray the ball around in an intelligent manner that helps set tempo and keep possession. I would say that the player best suited for this position is Michael Bradley. He has been playing the role for Chievo Verona, and played it for Borussia Moenchengladbach. He's generally quite good at switching the point of attack ( although some people give him a lot of flack for passing the ball from side to side way too much), and presents a better passing range than some like to admit. As far as the player in front of him, again, it needs to be someone who can provide real drive into the attack.
Benny Feilhaber
could do well in such a role, as he presents an ability to both spray the ball around intelligently, and unlock defenses, either by skill or by vision.
Sacha Kljestan
is playing pretty well in Belgium these days, and he has better overall mobility than Feilhaber. He provides the running , stamina, work rate, and tackling of a
box-to-box midfielder
, and the creativity of an attacking midfielder. That being said, his passing isn't as precise as Feilhaber's. He seems to constantly look for the defense-splitting pass.
4. Timothy Chandler is definitely settling in at left fullback. Not much else to say. He seems to be growing in confidence on both sides of the ball.
5. Altidore has grown a lot as a player at AZA. His hold-up play, his work rate, his aerial ability, and his overall ball-handling have improved. Moreover, he seems confident.
6. I liked Edson Buddle last night, and I continue to question why he's all of a sudden on the outside looking in. He made some good things happen last night simply with solid hold-up play and decision-making. To me, he's like Brian Ching/Conor Casey who can finish on the international level ( no offense to either player – I'm fans of both). I don't think he should be starting, but I do think he should be at least the back up option as a target striker.
Overall, I think the USA does have quite a few positives to take from these two matches, or at least a big one. Apart from getting his first win as manager of the USA, Juergen Klinsmann seems to have found a tactic/formation that works for this side after the first three . The 4-1-4-1, due to it's numerical superiority in the central midfield, offered great possession and organization, but left the USA looking rigid and predictable in the final third, with none of the central midfielders getting the freedom to roam or create, and none really in a good position to create chances and channel the attack. In this new formation, which looks like a 4-4-1-1/4-2-3-1, Dempsey can roam underneath Altidore to find space to create from, or even join him up top at times. Essentially, the 4-4-1-1/4-2-3-1 is better than the 4-1-4-1/4-3-3 at having players in dangerous spaces to make things happen. We saw a lot of times, particularly against Costa Rica, where the USA's attack would be slowed down because they didn't have options or ideas in the final third. Against Honduras and Ecuador, the USA had Clint Dempsey in the hole to receive the ball, which helped link the midfield and attack. Moreover, Dempsey is in a good position to support Altidore right off the bat. Generally, I'd like to see this formation posted below given a shot.
 Bradley in a deep-lying/ holding distributive role and Kljestan shuttling to and fro the "3" and the "2" in the 4-2-3-1. Donovan and Shea will look to use their pace to trouble the backline, although Donovan will surely look to come inside a bit more, while Shea will probably more frequently hit the touchline.